Robert M. Reardon
Chief Executive Officer of ISG Corporation
As the Chief Executive Officer, Bob Reardon has responsibility for strategic direction, leadership, innovation, teamwork and company growth. Mr. Reardon's vision, dedication and commitment continue to be the driving force behind ISG Corporation's success.
Most recently, he served as an executive for BMEGateway, a medical management firm that he founded. Over the past decade, Mr. Reardon built and oversaw the growth of the organization throughout the United States. His expertise in financial and business matters has poised the company to assume the aggressive growth experienced over the past five years.
Before this venture, Mr. Reardon worked for Vitale, Caturano & Company as a Certified Public Accountant, business and tax consultant. He earned a Bachelors Degree in Business Administration from Merrimack College.
He is married to Debbie Reardon and has three children, Bobby, Sochia and Shannon. He is actively involved in education as a Board Member of the Fenn School in Concord. He also serves on the Board of Winchester Youth Baseball / Softball.
---
John G. Wolf
Chief Operating Officer of ISG Corporation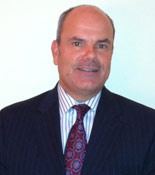 As the Chief Operating Officer John Wolf has leadership and oversight responsibilities for both field and corporate operational business activities which include service delivery, business process improvement, personnel management and related functions.
Prior to joining ISG, John served as Sr. Vice President Operations for an industry leading Medical Management Company. In this role John had responsibility for leadership development, business growth, and client services.
John was as a member of Travelers Property Casualty Corporation Senior Management Claim Service Team. He served as Lead Executive for the construction specialty market division. Reporting to John nationally were the Auto, General Liability, Workers Compensation, and Account Services business units.
Before joining Travelers, John held various positions which included Assistant Vice President of American International Group (AIG), Claim Services. Assignments included work in the commercial lines claims operation, construction, and insurance services division. John had executive lead responsibilities in the development and oversight of a national specialized business operating unit.
John began his professional career at Aetna Casualty and Surety Company in the Claim Leadership Development Program. John has over 18 years of industry and business experience.
John is a Cum Laude graduate of Long Island University, New York, where he received a Bachelor of Science degree in Business Administration. John also holds a Master of Business Administration, Executive Program Finance and Banking, Dowling College. In addition, John has attended executive management programs at John F. Kennedy School of Government, Harvard University.
John has been very active in civic organizations, including the St. James Volunteer Fire Service where he was elected and held multiple terms as Captain, Eagle Ladder Company. John is a Board Member of St. Michaels Finance Committee. John is also a member of Delta Mu Delta, National Honor Society.