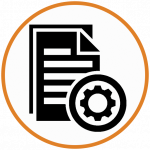 ISG offers a broad range of Record Management Solutions, including Record Retrieval; acquiring all records pertinent to a claim from all manner of facilities, Record IQ; consolidation, indexing, summarization and analytics of records, and Record Pro; custodial production and fulfillment for records requested by a third party.
Thinking of partnering with us for your record retrieval needs?
Here's how it works, we:
Review current protocols/processes
Highlight what is working/not working
Offer options to fill in the blanks and/or establish a new system all together
Create a detailed partnership program
Complete an implementation process with set goals/dates
Let us do the work for you and help you save time and cost!